---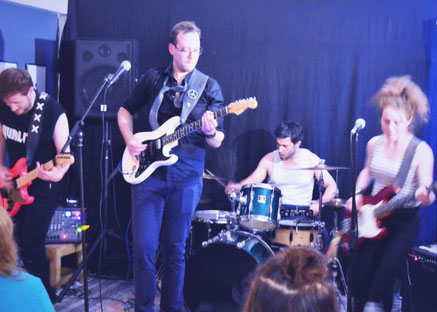 Britany is not a region known for its heat, but under a full set of projectors, it isn't the same story. A frozen ready meal would have burnt into a couple of minutes there. But warmth was also in the heart of people, and that's not a f**king legend!
The aircrafts of the Patrouille de France, which flew over Paris couple of hours ago for Bastille Day, went through the sky of the city of Carantec on their way back. Some say, they intended to write "HGTM" with the smoke but couldn't, for technical reasons. Too bad guys, but it's a good thing that you tried! 
Why did we land in Britany already? Ha! We had been invited by the boss of the Ho'Penn Bar (a very nice guy) to come and play our set on his stage, in Carantec. What a lovely city by the way!
The concert itself went quite well, with a good quality of sound. Perfect for Lèse-Majesté and the rest of Chasing Ghosts anyway. The heat under the projectors turned Jo to liquid, then to gas in a couple of minutes. Just for that the night was worth it! 
A great 'Merci!' to the guys from the 'Ho'Penn Bar', who were really helpful, and also to the local audience for all their love towards us. A warm Breizh, in other words...   
To know more