---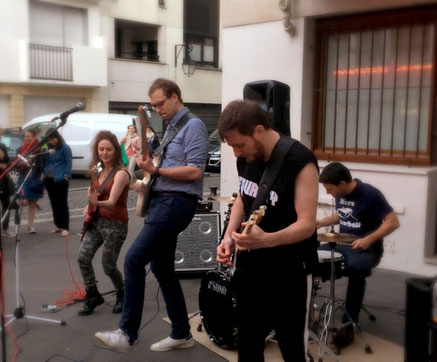 Back to the roots for a one-hour gig, in the sunny windy climate of the Fête de la Musique 2018. Feet, amps & drums on the ground... 'on the sly'-style!
Exactly two years after our first live performance, we were glad to present our new set "Lèse-Majesté" in the streets of la Butte-aux-Cailles in Paris, France. Like last time, the programme was eclectic, from blues rock to metal: 
- 7:00 PM: REKT (metal)
- 8:30 PM: Groovy Moles (blues rock)
- 10:00 PM: HGTM
After a self-made installation (tainted with France's qualification to the round of 16 in the World Cup...), our gig started with the rough sound of REKT, followed by the well-oiled and smooth-running blues rock of the Groovy Moles - with whom we may collaborate again in a near future. 
Our performance began in the sunset. We served our big load of covers, but also our first compositions: Lèse-Majesté, No-Go Zone, The Medicine and I don't Hate You. These newfangled tracks will be available in our EP "Chasing Ghosts", coming soon.
Although conditions were relatively rudimentary, we had a lot of fun playing in the street last night. Pleasure obviously shared with all those who came to see us. See you soon!
More information