---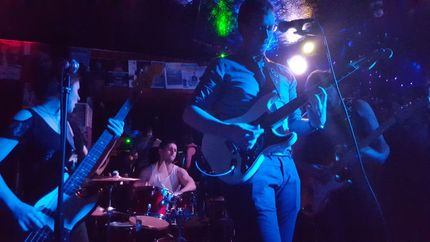 Electrical atmosphere for the second of our 'Back on Track' tour, with the The X-Days. The audience and the decibels were at the rendez-vous.
After a quite short night, a car journey spent slaloming between trucks on the road between Lille and Paris, and with an outside temperature quite freezing, we were really hoping for some heat that night. 
Our friends from the X-Days perfectly did their part of the job with a balanced setlist, highlighting their latest EP 'Happy Hour'. Their fans from Paris really enjoyed the unbuttoned shirt of Martin and Nico's wiggle on their brilliant single Hunting Feelings.
We managed to get prepared quickly this time and to limit the waiting time before we stand on stage. Almost no time to switch devices and to uncover some shoulders (hmmm..), Olivier's cymbals were already whipping our faces on our double-decker Born To Be Wild version. We clearly intent to gain intensity during the gig, but we also to a few minutes to pay tribute to The Truskel, with a cover of This Modern Love by Bloc Party. The enthusiasm of the audience and their multiple encore requests appeared to prove us right in the building of our setlist. 
Sixty minutes to rock out, an XXL performance by Jo, a few decibels in excess... contract more than filled for us. Don't panic, we'll be back soon!
More information